A week before graduation in 2018 a group of college friends and I sat on a rooftop in Boston looking out at the skyline in the distance. We were trying—and failing—to avoid talking about how little we'd be seeing each other just ten days from then. As everyone continued their bittersweet banter I realized that if we don't plan something now, while we were still around one another every day, we likely would never be together as a big group ever again.
That very same day I talked to Katie (our resident planner) about the idea of planning a reunion for the following year. She was 100% on board and suggested the 4th of July; I volunteered my family's cabin in the Sierra's.
We went to the group with the idea the next day and everyone was soundly on board, at least at the moment. I'm not sure anyone was really very confident that the event would actually materialize.
Fast forward 14 months and after arduous planning and hounding friends for their flight info (@Orph) the time had actually arrived for us all to jet off to California. I arrived five days before the 4th and grabbed some groceries to bolster Katie's awesome Fraction Foods menu and loaded up my dad's truck for the drive into the mountains.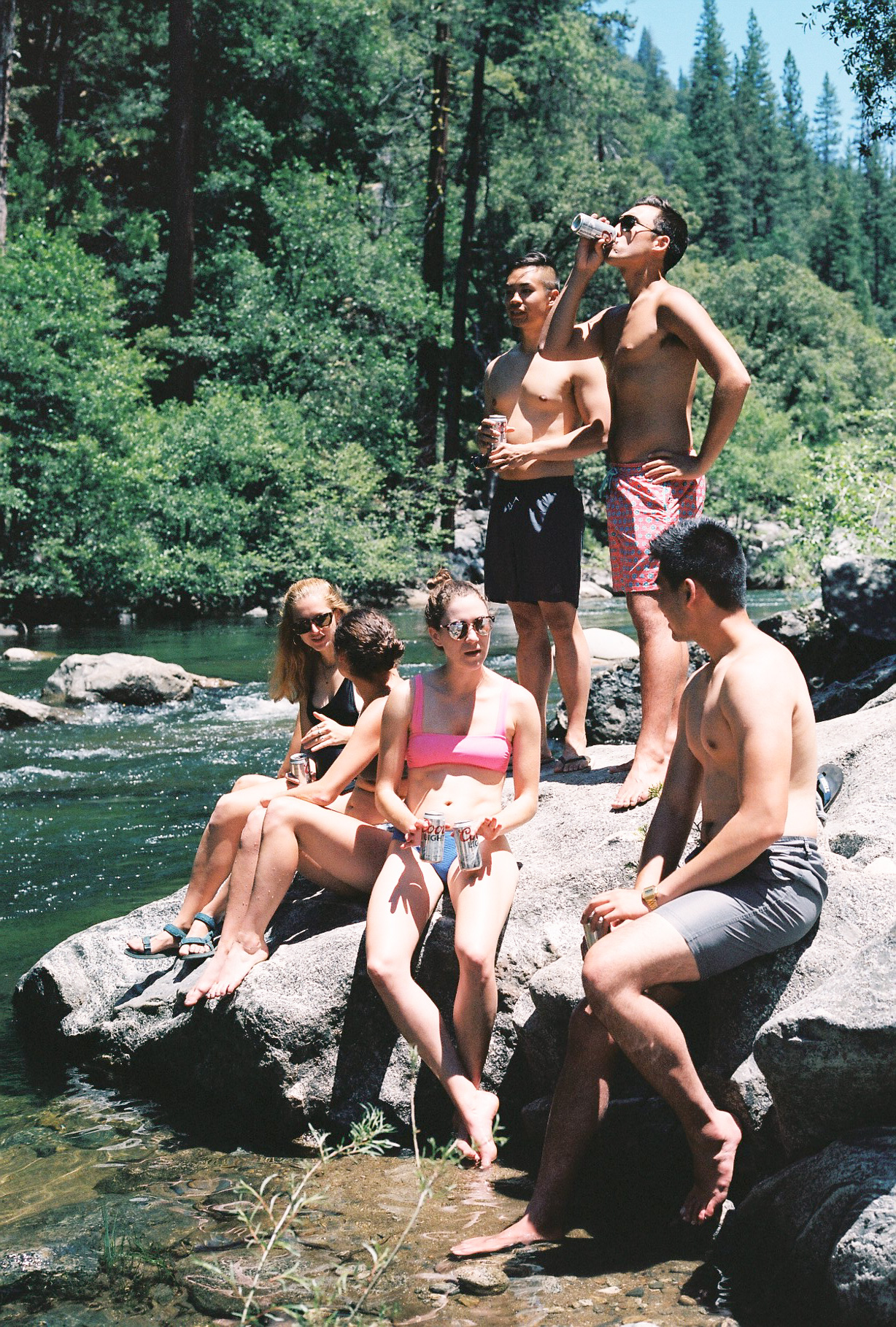 Surprisingly, with 23 people converging on a tiny mountain town 4 hours from San Francisco from all over the United States on a hectic holiday weekend we encountered zero travel issues. No cancelled flights, delays, flat tires, speeding tickets, or upset stomachs. Just happy friends seeing each other for the first time in 14 months (in some cases).
For the next 4 days we tried our hardest to relive our college days while simultaneously enjoying the best that the Sierra Nevada mountains have to offer.
On the second full day I had planned a hike to a high alpine lake called Bull Run. I'd hiked to it before—on a two night backpacking trip with my family when I was 12 or 13 years old. My only memory of the hike was that my Mom had said it was 7.5 miles round trip, and the hike in had felt much longer than 3.25 miles. Disregarding this little tidbit I decided it was the perfect hike for a massive group of hungover friends on 4th of July weekend.
When our caravan of four cars pulled into the graded meadow that served as the trailhead there were patches of snow scattered around behind the trail marker and in front of our cars. I clambered over a patch to take a photo of the rudimentary map on the trailhead sign and set off down the trail with 21 naive friends in tow. It took us no more than 10 minutes to get lost. As Goose and I consulted the map on my phone the others tried their best to catch up without falling on the snow.
"Guys just hang out here and don't go anywhere, we lost the trail," I said.
"So if this is the Stanislaus Meadow in front of us we need to stay to the right of it and in theory we'll find the trail, right?" Goose asked.
"Sure," I replied. Exactly as unsure as I sounded.
After a few minutes following our plan we found the trail again, or as close to a trail as we could find. We trudged over pillows of crunchy snow in Teva's, Van's, and hiking boots, broadcasting our unpreparedness to the silent wilderness.
We continued this cycle of losing the trail and finding it again for a couple of hours before half of our number decided that trudging through snow in July wasn't something they wanted to do any longer than necessary. After deliberating about splitting up our group in the middle of nowhere we decided that half would press on to the lake and half would go home for beer and barbeque.
After losing half our tribe we lumbered along, continuing to find and lose the trail until we were well into the granite fields of the High Sierra's. Using stray cairn's as our only guidance we wandered for two more hours.
Then we ran out of water.
And we got dizzy from altitude sickness and dehydration.
We never found the lake.
Dejected and defeated, we gingerly climbed down from the granite fields one tired feet, and forded streams to make our way back to the cars. We relied on our footprints in the snow as our guide back, trying not to follow our lost prints from the very same morning. When we finally made it to the cars we stayed largely silent until we'd made it to the Bear Valley General Store where we stuffed our faces with chips and chugged Gatorade and water.
Thankfully the other half of the group had dinner waiting for us when we got back. After enjoying more Fraction Foods, Sachin checked his phone's health app.
13.7 miles.